March 29th, 2016
Another Australian first - ARTPOST on our national ABC WEBSITE

At long last, a significant national promotional tool that uniquely helps showcase Regional and remote artists of Australia.
The newly developed Artpost website is one of the first positive outcomes (breakthrough?) from discussions held at 'Art in the Heart', a huge regional art conference held in the Centre of Australia back in October this year.





Check my profile out here -
ARTPOST Artist-Kerryn-Madsen-Pietsch
*Artwork (top):
Title: Synthesis Stitch Ensemble No.3

Additional Edits

12 March 2011
Earlier this year the Website upgraded to a new server.
I notice features of visitation numbers and other statistic headers have been deleted.

There have been and still are problems encountered from this changeover, like for starters -
a) doubles of photographic images. They now show at random, all over the place!
b) When logged on, one is not able to delete/edit anything apart what is showing up on the first page which contains only 8 photo images. Past that there is no edit/delete option
c) Problems with other silly little editing box info. not working.

6 May 2011
To date have had no response to an email sent to ABC ARTPOST website people about it. 8 (

* As timed passed have learnt the site has been ARCHIVED! Still visible but no longer funded by Govt.
June 13th, 2010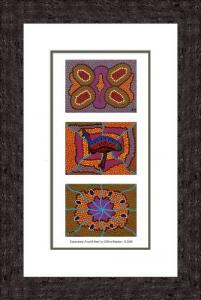 It's a long weekend here in Australia, meaning this Monday June 14th is officially a public holiday declared for Queen Elizabeth's birthday.

I have put together an example of how best this work 'Cassowary, Food and Nest' by Clifford Madsen, just loaded up for POD, can be framed.

A matt black/charcoal rustic type frame compliments the indigenous art work well. Hope you like.
I do a lot of framing in my own small art retail business situated in Innisfail, a small country town in Far North Queensland of Australia, so I consider this a luxury not having to actually assemble this one!


Fine Art America framing particulars -

Print: Cassowary - Food - Nest by Clifford Madsen - 7.75" x 16.00"
US$85.00

Material: Archival Matte Paper
US$7.00

Frame: #RSL4-Rustica: Ashen Black (RSL4)
US$38.30

Top Mat: Arctic White w/Black Core
US$11.30

Bottom Mat: Bar Harbor Gray
US$8.30

Finish: 1/8" Clear Acrylic Glazing - Foam Core Mounting
US$20.50

Print On Demand particulars 'Cassowary, Food and Nest'
March 21st, 2010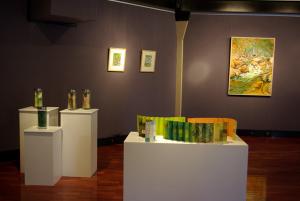 Artist book installation work (on plinths in the photo) in the group art exhibition 'Tablelands, Perimeters and Parameters' held at theTableland Regional Gallery, Atherton, Far North Queensland, Feb 5-28, 2010.

ARTIST STATEMENT

My work explores unique design elements and characteristics of various organic vegetation (plants, plant life, flora, foliage, undergrowth) growing on the Tableland. Imagery has been initiated and developed from referencing my own photographic material taken in this environment. Literally, perimeters and parameters are first set within the camera frame shoot then arranged within my chosen art forms where flexibility is provided in the arrangement of separate components into a coherent whole. Painting and grid-like surfaces from paper manipulation, arrangement processes along with assembly formations imply mapping territory, boundaries, multifaceted planes and a parallel dual realm of the two-dimensional and three-dimensional. It is where a diversity of observed unique characteristics of extracted essences such as colour and tone as well as organic and geometric shapes are reflected.

The works represent intimacy, relationships and a communion with nature's higher energy life force and verve.

Kerryn Madsen-Pietsch.